Monday, December 31, 2018
2018? More like Two Thousand and Great!
Things I Liked in 2018:
Pickwick the Owl, Twix, Daisy
Weird posters, Best pals, DeLorean tomfoolery
Yes Michigan, Rebuilt windowframe, Farm projects

Fall Colors in Northern Michigan
Probably the most visually spectacular thing we did this year was drive across upper Michigan in October when the leaves on the trees were unspeakably brilliant. I saw colors I simply had never seen before. Talking with locals (even old-timers), many of them said that this was one of the best years in their memories.

Window Rebuild
One of the windows in our 1960s cottage was in really bad shape...rotting to the point where the glass was almost falling out. Of course since it was hand-built a billion years ago, I had to go to the local lumberyard and have the boards hand-milled to be the correct widths. And then I had to hand-cut the joints on-site, router the edges so the glass fit correctly, and match the angle that my granddad had cut in so that it would open properly. After a ton of sweat and splinters, I set the windowframe into place and it worked.

Old Nation Brewing's M-43 and Upper Hand Laughing Fish beer

&nbsp&nbsp&nbsp
I bumbled into a couple of good Michigan beers this year. This is them.

Camping With Ten Thousand 7th Graders
My kid was pretty hesitant about going to his school camp, so I volunteered to be a counsellor for the whole time. BUS TO BUS! The camp was originally scheduled for early September (picture perfect time for camping) but got re-scheduled for NOVEMBER! IN MICHIGAN! We were in lodges so it wasn't like we were in tents or anything, but we were outside for essentially the whole day, building fires, shooting arrows, building shelters and climbing rock walls. One morning when we woke up it was 16° fahrenheit. Nevertheless we persisted, learned about nature, and almost nobody died. And my kid kinda liked it, so in the final analysis I think we came out on top.

I Fixed My Washing Machine
For a while it was taking our washing machine FOREVER to run, and when we looked at the cold water filling the drum would just trickle out. BUT, if I swapped the hot and cold lines, the cold would be fine, and the hot would trickle in. Additionally, when the washer was running, the pipes in the basement would rattle and howl. Long story short, I tore that whole fucker apart, ordered a new inlet valve for $18, hooked that duder up and it's like we've got a brand new (old) washing machine.

Weird Posters

Some lunatic in my neighborhood has been putting up these weird posters that are confusing and quite frightening in many cases.
Unfortunately there is no way to know who has been doing it.

Star Wars Costume Exhibit
The Detroit Institute of Arts hosted an in-depth costume exhibit from all of the Star Wars movies and it was incredible to see so many of the real-deal costumes up close and personal. Of particular note was the original Princess Leia costume from the 1977 movie. It was kinda taped-together and scuffed. The belt looked like it came from Studio 54 and was hastily spray-painted, and the boots could hhave been found in a cardboard box at a thrift store, but Hollywood magic made it royal.

This lamp (re)built by ReTech

At a weird art show this fall I stumbled into this guy's functional sculptures made from found objects,
rejected doll's heads, medical equipment, LEDs, human bones and whatever else catches his eye.
I loved about a dozen pieces but ended up buying this lamp which has cool bulbs on a dimmer and a secondary light inside.

I ate at 4 great restaurants in my area for the first time:
Satchel's BBQ
• BBQ within feet of my house
Miller's bar
• No menus, no bill, just burgers and honesty
Standard Larder & Bistro
• Ooh la la.
Everest Sherpa
• Hearty food from Nepal, Tibet and India (unfortunately trapped in a non-atmospheric strip mall).
I saw 4 great music performances in my hometown:
Martin Sexton show at the Ark
• Intimate vocal acrobatics
Iron & Wine show at the Michigan Theater
• Clouds and beards
Jason Isbell show at Hill Auditorium
• I got to shake Jason Isbell's hand on the street while he wandered around (probably looking for shoe stores). Then he went to Chipotle
Jit Exchange Show at UMMA
• More on this below:
The Jit Exchange at the University of Michigan Museum of Art

My son's drum instructor and a good friend of ours both worked on bringing together
this show which incorporated Detroit Jit dancing and Zimbabwean Jiti music.
It was so positive and full of energy it kept me smiling for days.
Another clip here and here.

I'm Goin' to Disney World!
The family took a trip to Disney World and stayed in the Contemporary Resort (the original 1971 resort built under Walt's watchful eye). We've been to the park a handful of times now and at this point, we don't break our necks racing around from dawn until the park closes... we are much more discerning and casual in our pace, and it ends up being pretty nice.

Batter Up!
We got the chance to attend batting practice at a Tigers game from down on the field. It was a great behind-the-scenes view of what goes on and Leonys Martin threw a ball to Henry (two days later he was traded to the Indians. Martin, not my son. My son still plays for the Montreal Expos).

Back In Time

Some days your buddy comes to town in his DeLorean and you both say "Welp, let's dress like bros from the Middle Ages and go drive around for a while."

We stepped out of the car at Dominick's and the old guy at the door said "I guess I need to check your IDs, you guys might not even be born yet."
Kevin said "Oh no, we're very old."

Re-Roof
The farm got a new roof this year, and it was amazing to see. They took off the tiles that had been there at least since the 1960s, then pulled off the cedar shake shingles under that to get down to the original (true) 1x10 boards from when the upstairs was added to the house (mebbe 100 years ago?), all the while shielding themselves from the flocks of bats they were disturbing. The end result is a great-looking roof, no leaks and re-built chimney that I kinda want to make out with.

Blue Wave
After two-years of non-stop nonsense, it seems like my fellow citizens are starting to recognize the importance of voting and the numbers of people participating in mid-term elections is heartening. Additionally, a number of progressive candidates gained ground, so maybe the normalization of some helpful ideas can get traction in the upcoming election.

Stunt Camp
Henry attended a terrific Stunt Fighting camp at Ring of Steel where he learned fake punches, swordplay, high falls, archery and pyrotechnics. My only question is: When is the camp for adults and b) can we bring beer?

Charley Harper Glasses

I fell in love with the simple geometric designs on these Charley Harper glasses and received two sets for Christmas.
My initial thought was to take them up to the cottage but now I think I want to see them every day.

Chips Ahoy
The bad news is that the huge 200+ year old Burr Oak at the farm lost some serious branches this year. The good news was that with the help of friends and family we were able to cut up the limbs, rent a truck and an massive 9" chipper and we chopped up a ton of that wood into woodchips, knocking down the woodpile from being 8 feet tall to being only like 2 feet tall. Plus we cut down a bunch of junk trees and generally cleaned up the whole property. AND we chipped the flower beds for "Free." The best best part was that the neighbor kid, Truman, is WAAAYYYY into landscaping equipment and owns his own rototiller. When he came onto the property and saw that we had a Bandit™ 9" chipper his mouth dropped open. I said "Hey bud, this is the Bandit™ 9" chipper with fully rotational discharge chute" and he said "Oh I know, I've watched YouTube videos of it." He was a really big help, with a huge grin on his face the whole time.

Tunnel of Trees
On a mini-vacation in August, Penny and I finally drove the Tunnel of Trees on M-119 in northern Michigan.

Pickwick the Owl

For my best girl's birthday, I tried to commission local artist David Zinn to do an original chalk artwork on our sidewalk to celebrate.
He was very kind and mysterious, and (without accepting any payment) a magical cake-squatting owl appeared on our front walk.
His name is Pickwick and we love him.

Tunes:



Big rock, super pop, laid-back country,
the slow burn, the night shift, the parking lot pirouette,
a couple weird albums from the '70s that I just stumbled into,
some long-time friends, lots of first-time strangers:

Golden Hour
by Kacey Musgraves
Far and away my favorite album of 2018. Recommended sunny Saturday morning listen. A light warm collection of smart singer/songwriter-y tunes with immaculate production. I keep thinking of it as Harriet Wheeler (from The Sundays)'s Nashville album.

Sand
by Sand
I honestly started listening to this album because I liked the album cover. The band is called "Sand" and the album is called "Sand" and the cover has a picture of a sandwich in the sand. Do you get it? What I found was a warm, CSNY-influenced Americana album from 1973, with shades of the weird soundtracks Pink Floyd did in 1969 and 1971.

Historian
by Lucy Dacus
One of my litmus tests to find an album that will stick with me is if the album is done, and I think to myself "You have an infinite universe of music to choose from. What do you want to listen to next? I think I want to listen to that same record again." Kinda sprawling and atmospheric but also intimate and personal. The production is really clean and her voice is sweetly pure. It's sort of the black turtleneck/heavy eyeliner flip side of the Kacey Musgraves record.

Balsams
by Chuck Johnson
It is almost a disservice to think of Chuck Johnson as a guitarist because, while he is extremely adept at playing his instrument, the sounds on Balsams feel almost like a swelling church organ or the gusts the winds might make in a dry melodic canyon. Similar to William Tyler's Modern Country, this album is a sprawling ambient blanket containing layers of braided sound and landscapes of sun-baked minor key melodies, like the earth-bound companion to Brian Eno's Apollo.

C'est La Vie
by Phosphorescent
This one crept up on me. It's a quiet, intimate singer-songwritery album that would have felt right at home in the late '70s. Relaxed, hummable tunes with intricate instrumentation.

Television City
by Television City
Michigan-centric Americana that just happened to be recorded by a bunch of my favorite people. It was fun to follow the evolution of this record as it grew from loose ideas to become the full release that it is now. Some of the tracks are true epics, but in the end I gravitated toward the looser and more sparsely intimate songs that sprung up fully-formed in the later stages of making the album.

Barry Goudreau
by Barry Goudreau
After the band's rocket to fame in the late '70s, Boston mastermind Tom Scholtz became inevitably tied up in legal battles with his manager and label, leaving the rest of his band idle. During the downtime, guitarist Barry Goudreau enlisted almost the entire band to record nine very Boston-sounding tracks. It feels almost as if Scholtz left every amp and microphone as-is after Boston's second record, and Goudreau and company just stepped in and recorded the band's third record while Scholtz wasn't looking. The album's clear highlight is the minor hit "Dreams" which channels a familiar guitar tone and anthemic chorus.

Providence Canyon
by Brent Cobb
As it turns out, when your brother is widely regarded as the best producer in town, your album ends up sounding pretty good. Laconic and laid-back, Cobb's uncomplicated songwriting and warm voice evoke wooden porches and ice cold cheap beer, but in a way that seems less calculated than the bro country clunking up the airwaves on country radio.

The Mountain Moves
by Treetop Flyers
Somehow transported forward in time from Laurel Canyon in the 1970s, Treetop Flyers' debut album is collection of wistful acoustic Americana tunes in the style of CSNY and America (another British band that captured the California sound with unexpected accuracy). Like a less-bombastic My Morning Jacket, this five-piece croons and noodles over lazy backbeats, the songs buoyed by rich harmonies. Their subsequent albums nudged toward slightly busier instrumentation and production, but this first record is a warm summertime beachfire gem.

Potatoland
by Spirit
Spirit is largely remembered as a hard-driving rock band based on their biggest hit "I Got a Line on You," so it is difficult to wrap one's head around this bizarro concept record. Originating in the early '70s and reworked for a 1981 release, the science fiction backstory is illustrated by a comic strip (included in the LP) and the disjointed nature of the album makes for a puzzling listen, but man, there are some good songs on there. Proto-disco, Beach Boys harmonies, Yacht Rock bounce, electronic synth noodling, bluesy chooglin' and a chiming Byrds-influenced closer, Potatoland is a grab bag of trippy California oddities.

One of my favorite music moments was Kacey Musgraves covering a Keane song

An intimate and perfect version of "Somewhere Only We Know" accompanied by cello, piano and banjo.



I spent a good amount of time curating this Shakedown Cruise playlist.

Summertime smooth rock from the late '70s and early '80s,
heavily influenced by yacht rock and big dumb fun sunset jams.
Expect big production, harmonies, sensitive lovers and lots of chest hair.
Full Sails and Feathered Hair, everybody.


Computers and Technology:
Cocaine & Rhinestones
This year I dove into a new podcast called Cocaine & Rhinestones (hosted by David Allan Coe's somehow-normal son) which highlights some of the wilder and weirder stories of country music in the 20th century. Drunken brawls and slimy managers, feuds and affairs, dirt poor angels and big city devils, nudie photo blackmail and backstage deals at the Grand Old Opry. Recommended, even if you don't like old country music.

Gritty

I don't really follow hockey but I do follow giant googly-eyed orange monstrosities that haunt all of our dreams. Thanks Gritty!

Slow Burn "True Believers" podcast
This lengthy dive into Watergate gave insights into a certain political scandal and the country's reaction.

Joe Walsh on WTF
(and Joe Walsh in general)
This interview with Joe Walsh was really great. He's sober now and remembers everything. He was like a Rock & Roll Forrest Gump, popping up to give Jimmy Page his first Gibson SG and learning how to play slide guitar from Duane Allman. My favorite quote: "Keith Moon decided he liked me. That was the scariest thing that happened in my whole life... In 24 hours, we stayed up for a couple days."

Cuphead

I don't play the video games that often, but everything about this one grabbed me.
The early animation style, the ragtime jazz, the simple side-scroll action.
The only slightly disappointing thing was finding out how much better my kid is at video games than I am.

Shower Thoughts
I stumbled across the Reddit community of Shower Thoughts. Many of them are dumb but every once in a while there is a little gem:

Amish girls have no way of knowing if it's a romantic candlelit dinner or just a regular dinner.

If you drew a dick on a vampire's face while they were sleeping they'd never find out about it.

If you were to play Mario games backwards it is the story of a plumber leaving his wife and his life progressively getting easier.

Technically everything you throw at a blind person is a UFO to them.

It is some people's jobs to deliver Digiorno pizzas to the grocery stores.

The most unsettling thing in the world would be knowing the day and month of your death, but not the year.

You don't really wash your hands, they actually wash each other while you just stand there and watch.

Hotel California is basically a bad Yelp review with a two minute guitar solo.

A werewolf on the moon would be the most powerful werewolf ever.

It must be quite alarming for deaf people to find out that farts make sounds.

The more holes a net has, the better condition it's in.

People who sit on the front row at the cinema technically get to see the movie first

Diarrhea is literally a blast from the past.

It must take a while for a Giraffe to throw up.

One of the unspoken things about being an adult is having a favorite burner on the stove.

Give a man a fish, he eats for a day. Give a man a poisoned fish, he eats for the rest of his life.

Books:
The Rise and Fall of D.O.D.O.
by Neal Stephenson and Nicole Galland
My favorite book of the year: A linguist is pulled from her unfulfilling academic life to dive into a black-ops government agency to save magic, travel through time, explore ancient martial arts, code in red hat internet protocols, learn WAY too much about corsets, watch Wikipedia entries and history books change before her eyes, witness hilarious Viking sex, visit the World's Columbian Exposition in Chicago in 1893, and generally upend the space-time continuum.
Incredibly, the science of magic and time travel are both given startlingly believable explanations and the story is told via quill-and-ink parchments, diary entries, government requisition forms and Slack Channel messages.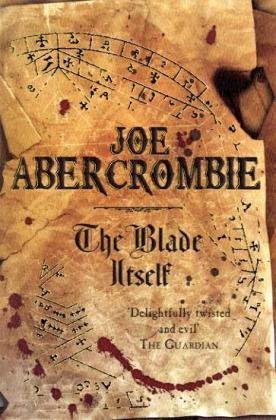 The Blade Itself
by Joe Abercrombie
Scratching the itch that Game of Thrones and The Kingkiller Chronicles is waiting to scratch, this fantasy series follows a mercenary barbarian, a noble-born swordsman, a crippled torturer and a wizard as their paths slowly intersect in the middle of a three-army war. It's one of those books where a chapter ends, and you're bummed out because you really want to know where that storyline was going, then you pick up the next chapter and say "Oh yeah, right! *They* were about to get ambushed, wonder what will happen?" and so on over and over again.

The Stars My Destination
by Alfred Bester
Alfred Bester first published this in 1955 but it feels much more futuristically real than Flash Gordon or Fantastic Planet. One interesting element was that the author kept referring to futuristic high-society members like the Sears-Roebucks, the Kodaks, the Buicks and "R.H. Macy XVI, head of the powerful Saks-Gimbel clan." Other than that it was a ripping space yarn.

Woodstalk: 3 Days of Peace, Music, and Zombies
by Bruce Worden
Author/Illustrator Bruce Worden (Goodnight Keith Moon) re-imagines the Woodstock Music Festival through the eyes of The Zombies (Rod Argent, Colin Blunstone, et al) as they are forced to battle a real zombie outbreak. Musical in-jokes wail as Ravi Shankar, Richie Havens, Joan Baez, wide-eyed hippies in a fumbled drug deal and a frazzled Vietnam veteran band together to try to survive 3 days of peace, music and zombies.

Dark Run (The Keiko Trilogy)
by Mike Brooks
A brash captain with a dark past leads a ragtag group of smugglers and pirates on questionable adventures aboard their space freighter. Lots of obvious similarities to the TV show Firefly but still a fun and easy book snack.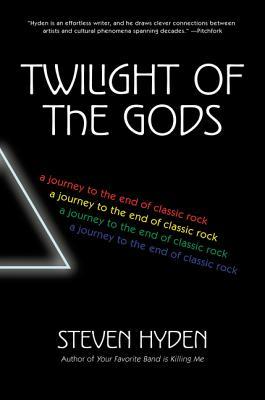 Twilight of the Gods: A Journey to the End of Classic Rock
by Steven Hyden
Steven Hyden (Your Favorite Band is Killing Me) takes the pulse of classic rock to determine what is keeping the music breathing after 50-plus years and if it still matters. Golden gods/geriatric hangers-on such as the Rolling Stones, Bob Dylan, Neil Young, Bruce Springsteen, Fleetwood Mac, the Eagles, Black Sabbath, and the Who are examined along with the fans, industry and culture surrounding this dusty but cherished genre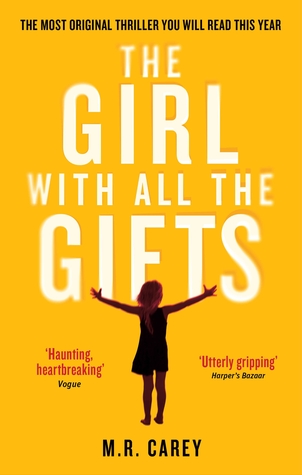 The Girl With All the Gifts
by M.R. Carey
It must be one of the few books to cast a flesh-eating zombie as the protagonist but somehow the reader ends up feeling for the main character. A global catastrophe has caused most of the population to become eaters, and a few pockets of humanity remain, looking for a cure. Despite the subject matter, it really is more of a road trip adventure through a post-apocalytic ruin with creepy scientists and bloodthirsty survivalists around every corner. Anyone who liked Station Eleven would probably dig this book.

Daughter of the Blood
by Anne Bishop
I plowed through this series, and while the second book was the best, I was entertained throughout. An interesting aspect was that the magic derived from colored crystals (kind of like Fleetwood Mac's third album) and each color was more powerful than the colors before it, so you got this weird hierarchy of witches and wizards who could lord over somebody, or had to bow down to somebody else based on the power of the color.

The Rivers of London Series
by Ben Aaronovich
I started this series last year but kept it up this year as well. A bumbling London cop finds he has a knack for the supernatural and ends up in a little-known (and little-respected) division of the police force. All of them are pretty good but The Hanging Tree was the best of the bunch so far.

TeeVee:
Again, not a lot of TV watched this year.
Disenchantment
The boy and I quite enjoyed Matt Groening's new medieval version of The Simpsons. The tone is a bit more adult and some of the jokes fall flat but it is worth digging into.

Fixer Upper
There are a bunch of unwatchable programs on HGTV, but this year we fell into this show where people often fix up old farmhouses. After a long year of tough projects at the farmhouse we've been working on, we found a lot of positive inspiration from this show.

Slow TV
Friends of our hipped us to this channel(?) lifestyle(?) where they show really boring things like the view from a train in Northern Europe for 6 hours, or a 4 hour documentary on cutting firewood in Sweden. Must See TV!

Movies:
(in roughly the order that I liked it.)
Annihilation
Black Panther
Avengers Infinity War
Solo: A Star Wars Story
Incredibles 2
Ralph Breaks the Internet
Ready Player One
Bohemian Rhapsody
Ant-Man and the Wasp
Fantastic Beasts: The Crimes of Grindelwald
Pacific Rim: Uprising
Mortal Engines
Johnny English Strikes Again
A Wrinkle in Time
Rampage
Things That Are Awful:



This Administration

This tweet sums up everything I despise about how our country is being run.
Callousness. Indifference. Partisan attitudes. Winning at all costs. Childish obstinance. Unwillingness. Cruelty. Greed.
I kept thinking of the horrible things that happened this year, and nearly all of them could be traced back here in one way or another.

The Deck
We had some work done on our deck this year and the contractor began to take advantage of our trust. It came to a head at a time when I was out of town and was not able to solve it (or even address it). It got worse from there and I still get angry about how he manipulated us after we felt like we could really trust him. The good news is that we found somebody else who could finish the job and we look forward to a sunset cocktail on the deck in the spring.

Hello Muddah, Hello Faddah
After several years of not wanting to go to sleepaway camp, we finally convinced our kid to go away for a week at a well-known camp for a week. He didn't pass the swim test which meant that he was unable to participate in a number of activities, the vegetarian food options weren't great so I imagine he wasn't eating much, etc. I had hoped this would kick off a lifetime enjoyment of summer camp hi-jinks and cherished memories, but ultimately he didn't like it, which I guess is fine...he's not the first kid to ever dislike summer camp, but I do feel bad that he spent an entire week stuck and wishing he was somewhere else.

GDPR
It feels foolish to complain about this, but in 2018 websites that have visitors from European nations needed to jump through a bunch of stupid steps for the illusion of online privacy. It was legislated by people who don't really understand technology and caused a bunch of headaches and extra work for me this year, only to ultimately not really amount to anything. Just a dumb waste of my time.

Ambulance Blues
A family member, a best friend, and a former co-worker who can't catch a break all spent time in the hospital this year for three very different reasons and none of them were pleasant. There has been real progress on all three patients, but I was for real worried about them and focused a lot of nervous/positive energy on them this year.

Gone Gone Gone
Pete Shelley of Buzzcocks, Burt Reynolds, doofy Detroit radio DJ Mike Clark, Aretha Franklin, Stan Lee.

Comments: 0