Cats Ross Boob Mosh Redneck Regan Perfectin' Fakin'

Hilarious Thing of the Day!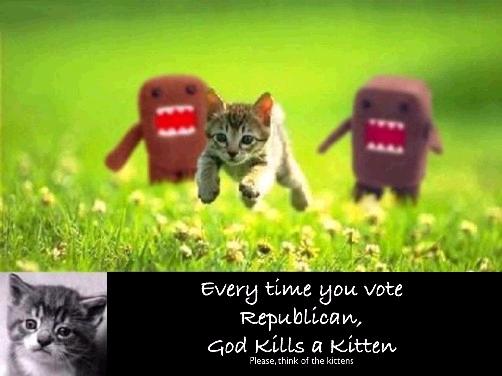 ::
Anyone who knows me knows that I am a
HUGE
Eminem fan.
Ok, well, that's a total lie, but after watching his arthouse/graphic design snipershot video
Mosh
, I can honestly say that I don't think I've heard a more rallying political cry from the streets since Public Enemy dropped "Fight the Power" back in Ninteen Eighty Nine (the number, another summer).
Really powerful. You should watch it. All the way to the end.
::
An AMG classic: The All Music Guide page to
Ross Geller
.
"After finding his keyboard Ross began playing again and soon found his own, very special sound again. After making his audience stunned performing live at the Central Perk he started his own record company and released the album Ross."
::
Orleans
is pretty pissed that Bush is using their song "Still the One" in a
Campaign Commercial
.
We're still havin' fun...
::
Homestarrunner Halloween Adventure
Homestar's dressed up as Carl Spackler from Caddyshack, so he's got that goin' for him.
::




::
Episode III Teaser Poster
.
Look! He's got a cape! ...oh wait...I get it.
::
Here's SFW footage of a woman
flashing her boob
behind home plate at this Red Sox game.
"Hi, I'm on the phone...yep...what's that? You can see me on TV? Really? ...what's that? Flash the entire nation? OK! Can you hear me now? Good."
::

Scariest Halloween Costumes 2004:
Like "Florida Touchscreen Voting Booth" and "The Widowed Nancy Regan."


Nancy Reagan

It's never too early to get your daughter into her first little black dress! This elegant approximation of former First Lady Nancy Reagan's moving moment alone with her husband's casket is as touching as it is scary. With just a flag, a casket, a simple black dress, and Grandma's old wig, any little girl can be America's Widow®!

Total cost: Between $25 and $25,000 (depending on the cost of the casket).
Total time: Under an hour.

::
Thanks
Paul
Thanks
David
Thanks
Rob
Thanks
Goody
Thanks
PJ
Comments: 0