Wednesday, October 20, 2004
"RE: Nerds rating issue"

Hoodlums: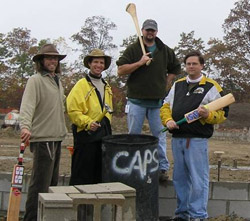 Rules for Rally Sport available online:

::
The outcome of
Washington Redskins football games
has correctly predicted the winner of every U.S. presidential election since 1936.
Go Packers!
::
Hey, all right! Oleg's back!
::
Jon Stewart's
response
to the Crossfire unpleasentness on the Daily Show.
"How was your weekend? I had a great weekend...Let's see what did I do on friday...I got a haircut, that was good...oh, and I called a guy a dick on national TV."
::


please Hammer, don't hurt him
more...
::
G-Dub's policy vs. Dan Rather's Policy:
Republican Logic
.
There's a lotta good stuff on this site, like:


::
Oop! Perry's got a
blog
.
It's about movies. And being a geek. Well, the geek part is more kind of implied...
::
Cool online
UPC Lookup
Application.
You can try this one if you like: 649288307427
::



photo 1 photo 2

::
Thanks
Matt
Thanks
Steve
Thanks
Chris
Comments: 0